Create maps with text, hyperlinks, browser popups, items, and portals. For paid users only. Subscribe here.
​
In conjunction with the Event Builder tool, build interconnected multi-map experiences.
Scroll down for step-by-step instructions on how to use the Map Editor.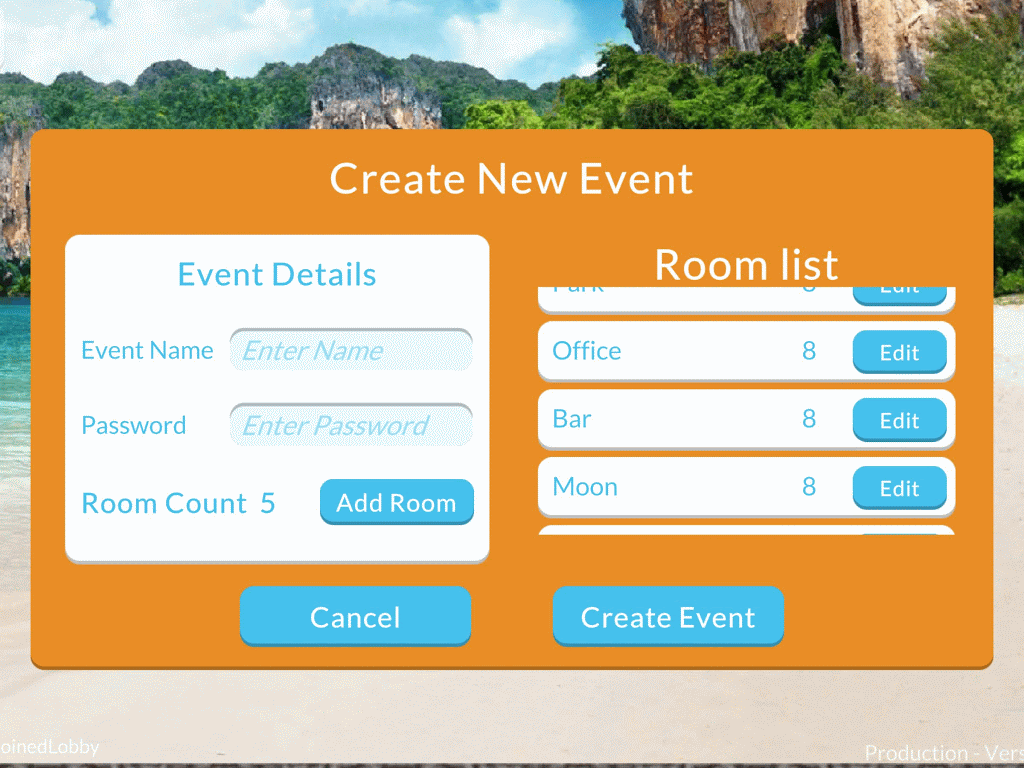 Event Builder
--- Within Meet i2i app ---
--- Available to all users ---
Here is a step-by-step guide on how to use the Map Editor:
​
Sign in to the Map Editor with your Meet i2i credentials. You may use the editor embedded above or open this link in new window to allow for full-screen editing.

To create a new map configuration, select the server for the map to reside in (most commonly, Prod), and then New.

Select the map thumbnail to pick the base map. (This step is often needed twice in order to effectively save.) A save is confirmed by a wiggle left and right of the new configuration. (Note that this tool is quite beta and being polished actively.)

Select the map name to rename the map. The configuration will once again wiggle left and right upon saving.

Select the map configuration to begin adding components to it. Within the map, mouse scroll up and down to zoom in and out.️ Click-and drag your mouse to pan. To return home (the landing spot of the map), select the camera focus button.

To add components (text, hyperlinks, browser pop-ups, portals, items), drag them off of the Map Configurator GUI to the location desired on the map. Enter quantity or select "Is Multiple," assign Radius as applicable, and Save.

To create or modify items, select the + button of the Map Configurator GUI to enter the Item Editor. Note that the server selection is vestigial and does not actually change from the server you already chose at the previous screen. Create new items or edit items by right-clicking on them.

To edit components already on the map, click on them and make sure to save changes. Moving components already placed is not yet possible. To workaround, copy-paste content, recreate the component at the desired location, and then delete the old component.

Save the map configuration often and verify changes to avoid losses.
​
Some Finer Points!
Text pop-ups allow for clickable hyperlinks when the url begins with "https://"

Text pop-ups over 160 characters will have text size reduced

The Radius defines where the pop-up is visible to users

Failure to save items may cause issues. Specifically, the inability to select components for modification. This may be fixed with a page refresh but unsaved changes will be lost. Save often to not lose changes, and save items to avoid too many in edit-mode at once.

Note that the home location does not yet operate nominally, so please refrain from use.

A saved map configuration will update in an existing event when a room is re-entered. However, portal changes require the event to be recreated. This can be useful when designing an event - to test it out with just a room refresh.
​
​
​